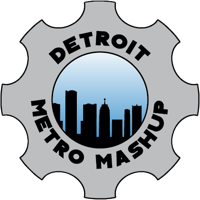 Detroit Metro Mashup has been designed from the ground up as a site dedicated to photos, videos and write-ups about southeast Michigan, aka, the Detroit Metro area. Our intent is for it to be a "curated experience" of events, places and things, rather than just a morass of news headlines and feeds from other services. We want to give you an experience, seen from our perspective, that will make you want to come back for more.

Our overall goal is to serve as one of the many groups who are dedicated to rebuilding the dynamic creativity of the Detroit Metro area and, along with that, its prosperity. We want to be at least a small part of promoting Detroit and its environs by publicizing and displaying as many highlights of the area as we can. We want to you to go on this trip with us, via the internet, as we travel throughout southeast Michigan and savor the hidden jewels of architecture, entertainment, arts, sciences, personality, business and, of course, music.

We've incorporated some unique website methods for displaying our photos and we think you'll find them to be as creative as our photography. In the menus above you'll find past events, recent events, upcoming events, and business events, photography of places and people, and historical aspects of the Detroit area. In addition, we'll be blogging about what we've done and plan to do going forward. In the link area below you'll find our recent coverage and two months worth of upcoming coverage. All of it is original, with a few quotes, all of it has photographs, and all of it is brought to you by Detroit Metro Mashup as a trip through time in the Big D.